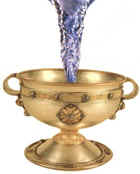 Welcome to Oasis,
a haven for travellers along the sometimes difficult path of life, drink from the waters to feel the healing powers of Gaia.
And, as the very essence of mother earth energises and refreshes your spirits, rest awhile.......
be at peace.
Susan Auger has her family roots firmly anchored in holistic healing therapies including spiritualist healing, mediumship and Chinese Therapies such as Acupuncture. The study of the subject began in her formative years, and Susan has a wide knowledge of energy work and many years of experience covering crystal healing, healing meditation and psychic development.
She is a fully qualified Bio-energy Healing Practitioner, a Reiki Master/Teacher, Seichim Master Healer, and is a fully insured registered Healer with the Healing Foundation and the Confederation of Healing Organisations
Susan has been a practitioner both in the UK and France, where she worked at a healing retreat, and now runs her private practice in Lytham St Annes, Lancashire.

Susan Auger